Apparel Fabric 101: The Ultimate Guide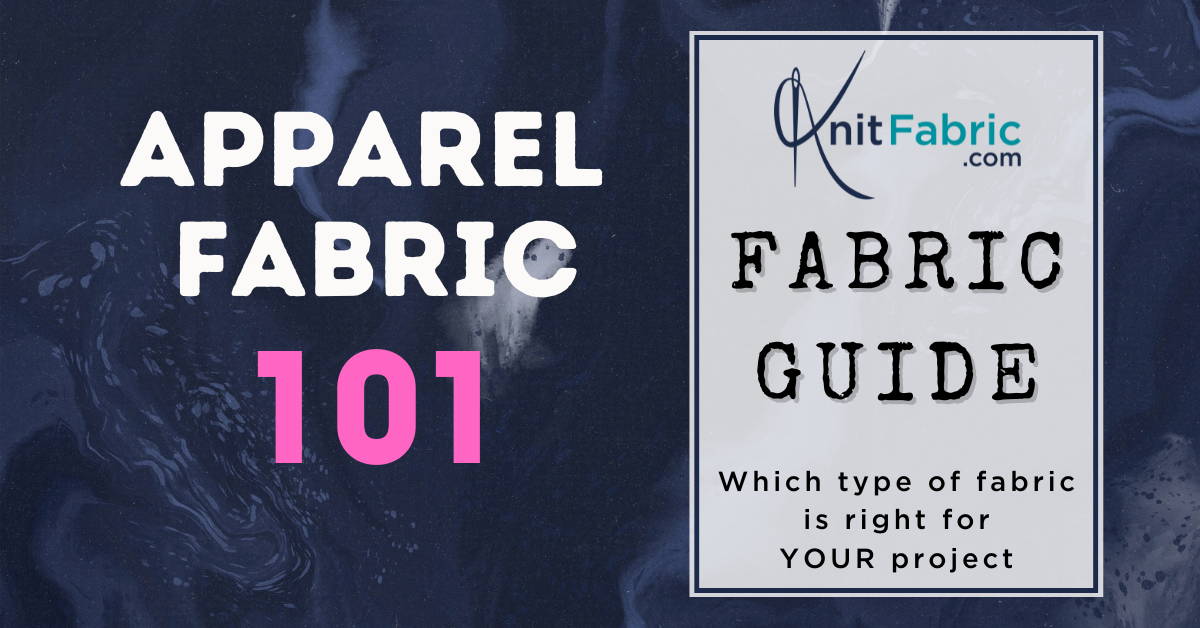 Apparel Fabric 101: The Ultimate Guide

KnitFabric.com is all about apparel fabrics - or fabric for sewing clothes. Our warehouse fabric store is stocked with fabric bolts of dozens of types of clothing fabric - from cotton lycra, to double brushed poly, to wovens and more niche items like gingham, muslin, minky, wool, nylon spandex, natural fibers like bamboo, organic cotton fabrics, and more. We pride ourselves in being the best online fabric store with a wide variety of bolt fabrics and great customer service. We offer big savings on our Custom Cotton Lycra Fabrics too.
In this article, we'll run down a few of our favorite apparel fabrics.
Of course - that topic is about endless. People use hundreds of different fabrics or fabric types in their clothing or apparel sewing. There are so many types of apparel fabric that it can be hard to impossible to sort through - especially for someone new to sewing clothes. It can be especially difficult when buying fabric online since you can't see it, feel it, stretch it, smell it (okay maybe not that one haha).
One of the most popular types of fabric for clothing construction is knit fabric. Knit Fabric is designed with the thread or yarn braided - this creates a stretchy fabric that works well for clothing like shirts, dresses, etc. There are a number of types of fabric that can qualify as knit fabric - these include some of the knit fabrics that we'll go over below. Many of these fabrics have different weights, different fabric contents (percentage of cotton, polyester, lycra, etc.), and different preferred uses.
With the definitions out of the way, let's get into the types of knit fabric:
Our sister company, KnitFabric.com has made a great reference chart to help you know what apparel fabric or knit fabric will work for your projects. Check out the graphics below for more detail on what you can sew with our most popular types of fabric. Many of the graphics link to articles on how to sew with that particular type of fabric - so click on them to learn more.
We hope this helps in your sewing endeavors!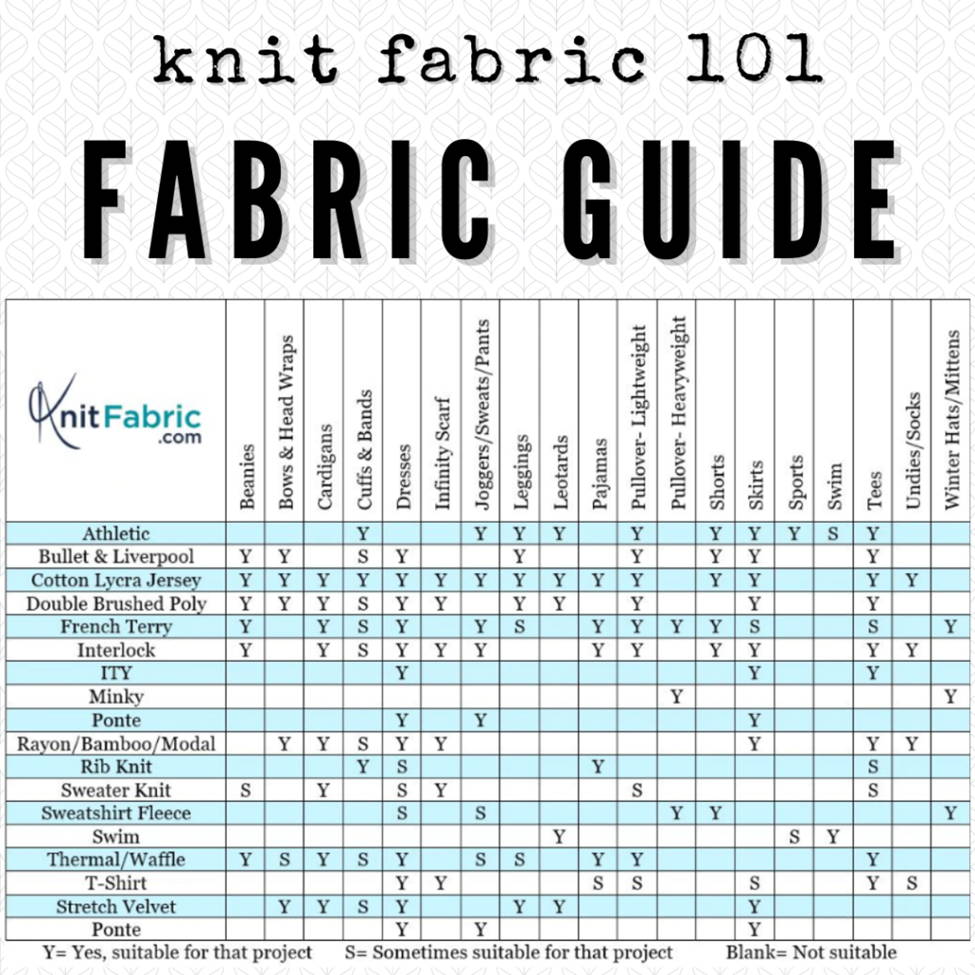 Cotton Lycra knit fabric is our most popular fabric. It's stretchy, breathable, and easy to make clothing with. Lycra is the stretchy part of the fabric and is the same thing as "Spandex" so you might see this fabric listed as cotton spandex, cotton jersey, cotton jersey knit etc.
When cotton lycra stretches is will bounce back to its original shape - unlike 100% cotton which doesn't include that stretchy lycra or spandex. For that reason, cotton lycra works well for things like underwear, dresses, pajamas, pullovers, shorts, t-shirts etc.
You can know how stretchy the cotton lcyra is by finding out how much lycra is in the fabric. For instance, if a fabric says 95/5 cotton lycra then that means that there is 95% cotton and 5% lycra. 95/5 is actually the most popular blend of cotton lycra we sell over at KnitFabric.com - you'll see this in our custom fabrics as well as major knit fabric designers like Art Gallery, Riley Blake, etc.
You will need to keep in mind that all cotton lycra is not created equal. First, it can vary in weight which is shown in gsm (grams per meter) or oz (ounces per square yard). The higher gsm and oz will be thicker cotton lycra and more durable. You'll find some that is more see-through fabric that isn't as high of quality.
At KnitFabric.com we strive to sell high quality cotton lycra fabric, at better prices, with flat rate shipping. As I said, cotton lycra is our most popular fabric over at KnitFabric.com so head over and take a look at it HERE.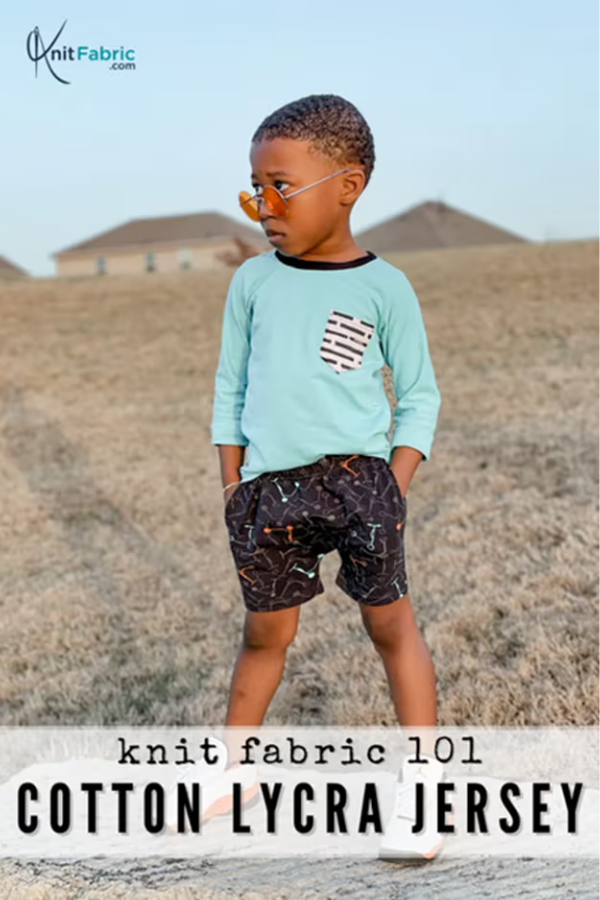 French Terry Fabric is another knit fabric that is smooth on the outer or right side of the fabric. On the inside or wrong side of the fabric it has loops. French terry is soft to the touch and perfect for clothing in winter seasons where you want to be a little warmer. As an apparel fabric, we see that french terry is often used for things that require a little extra warmth - pullovers, pants, beanies, dresses, cardigans, etc. French terry, as a fabric, comes in a variety of different fabric contents.
The majority of our french terry are cotton blends - with a number of them being 95/5 cotton lcyra. We also have some french terry fabrics that are Modal based. Modal is a bio-based fabric made from cellulose for a more eco-friendly fabric. Finally, there are some french terry's that include fabric with blends including Rayon, Polyester, etc. French Terry in the end refers more to the way the fabric is constructed rather than any specific type or blend of fabric. You can find French Terry fabrics in both 2 and 4 way stretch.
Take a look at the French Terry fabric we have in stock at knitfabric.com HERE.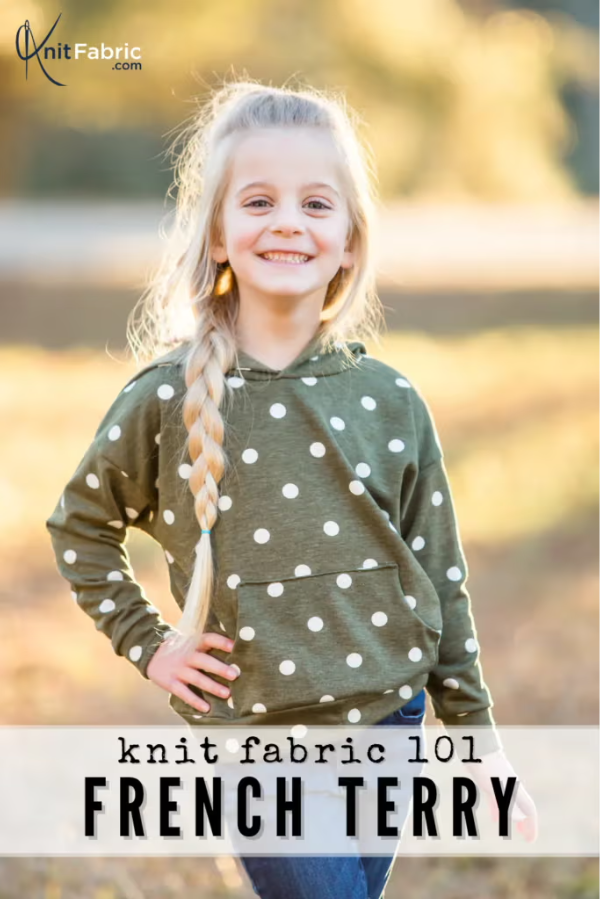 Double Brushed Poly Fabric

Double Brushed Poly (or DBP) is another knit apparel fabric that's used for dresses, leggings, cardigans, tops, lightweight dresses, etc. It's distinguishing feature is how soft it is. This fabric is "brushed" on both sides of the fabric which makes it very comfortable to wear. It also gives it a great drape factor.
This fabric is generally 4 way stretch and a little bit thinner than some other knit fabric like cotton lycra which some people like for certain applications like dresses, etc. Like cotton lycra, DBP is a synthetic fabric with a percentage of cotton and some lycra mixed in for stretch.
Our customers love the softness of stretchiness of double brushed poly - one customer said it's "soft was butter" and another said "it is so soft and easy to work with."
Heather put together a great article on Sewing with Double Brushed Poly and you can shop through the KnitFabric.com selection of DBP fabric HERE.
Sweatshirt Fleece is perfect for your fall and winter sewing needs. It has a smooth right side and fleecy wrong side. It works great for things like jackets and pullovers that are more loose fitting garments or outer layers. This fabric is typically of cotton / poly blend so it does have some degree of stretch to it although its definitely minimal stretch.
Being that Sweatshirt Fleece is an fabric with lower stretch it's fairly easy to cut and sew up. Stefanie made us an article awhile back where she gives us all of her tips for Sewing Sweatshirt Fleece. She also goes into far greater detail concerning what sweatshirt fleece is and tips for purchasing it.
We try to stock a good selection of sweatshirt fleece at KnitFabric.com, especially in the winter months. Come see what we have in stock HERE.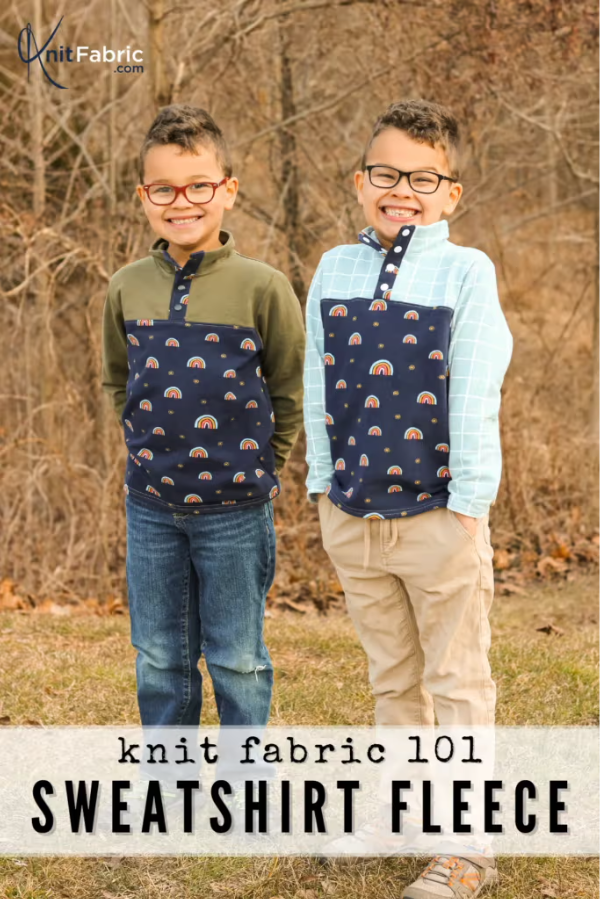 Sewing with Softshell Knit

Softshell fabric has a durable and water-repellent surface and a black fleece underside to it. This fabric is pretty true to its name - it is a soft fabric on the inside and it has a shell on the outside. It works well for things like jackets, snow gear, blankets, and more. This fabric is great for sewing outerwear that is water and wind resistant on the outside and comfy on the inside.
It's not typically as stretchy as some other knit fabrics although you can find some of our softshell in 2-way stretch. Take a look at our Softshell Fabric selection at KnitFabric.com HERE.
Waffle or thermal knit fabrics are fabrics that are woven together in square grids - its a breathable and absorbent fabric that holds in heat well. It also dries quickly which makes it a good choice for cooler weather. It works well for more casual wear - including shirts, dresses, cardigans, blankets, bathrobes, long underwear, etc. It's another one of our cozy fabrics that can be made from different material blends - cotton poly, rayon poly, spandex, etc.!
Most sewists find this knit fabric a bit easier to work with as it doesn't bounce back as much when stretched although you can find waffle that 's a bit stretchier (4-way v. 2-way). Stefanie wrote us a nice tutorial on sewing with Waffle Fabric HERE.
You can take a look at our waffle fabrics HERE. We also have a variety of brushed waffle fabrics - like the double brushed poly above you'll find these to be even softer. Take a look at the Brushed Waffle Fabrics HERE.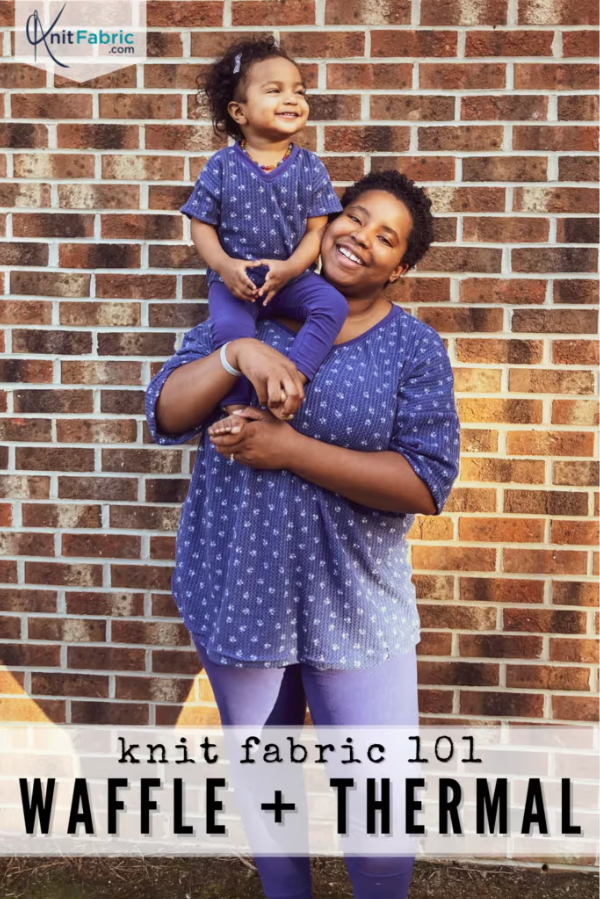 Rib knit fabric is often used for neckbands and cuffs on garments but you can use it for other things too like pajamas, tops, dresses, etc. It has a distinctive look with textured vertical stripes.
The fabric content or type in rib knit is varied. We have some rib-knits that are 100% cotton and other that are a mix of cotton, polyester, rayon, etc. We also have some rib knits that are 95% cotton and 4% lycra making them quite stretch and appropriate for clothing like the 95/5 cotton lycra knit fabric above.
To take a look at what rib knit apparel fabric we currently have in stock click HERE.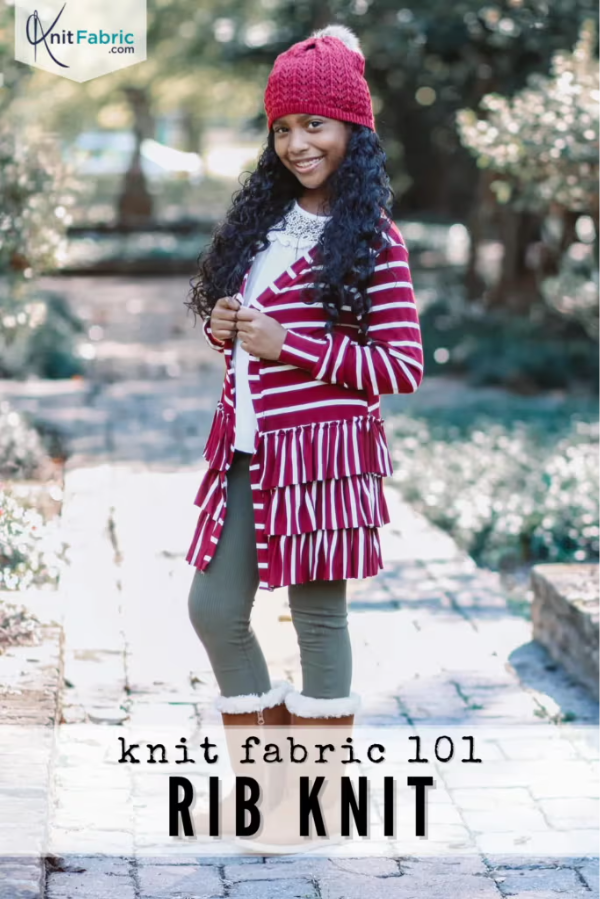 Swim and Board Short Apparel Fabric

Sewing a swimsuit might not be the first thing on your mind but you'd be surprised how many people actually do. Sewing swimsuits or boardshorts is easy if you have the right fabric. Swim Fabric has a smooth, cool hand and works well for fitted swimwear. At KnitFabric.com many of our swim fabrics are rated UV 50+ for optimal sun protection.
These swim fabrics are 4-way stretch. We have a great blog post here at Peek-a-Boo Pages that gets into all the details of sewing swim fabric. In the post we go over all you need to get going with sewing swim fabric - needle types, thread types, pinning, what stitches to use, lining, etc. For all this info and more head over to our post on Sewing with Swim Fabric.
Also, don't forget boardshort fabric. Boardshort fabric is a woven fabric (not stretchy) and sewing with it is less complicated as it isn't form fitting. It has a brushed soft surface and is pefect for men or boys swimwear and can also be used for other jackets, shorts, etc.
Come take a look at our Swim Fabric and Boardshort Fabric over at KnitFabric.com.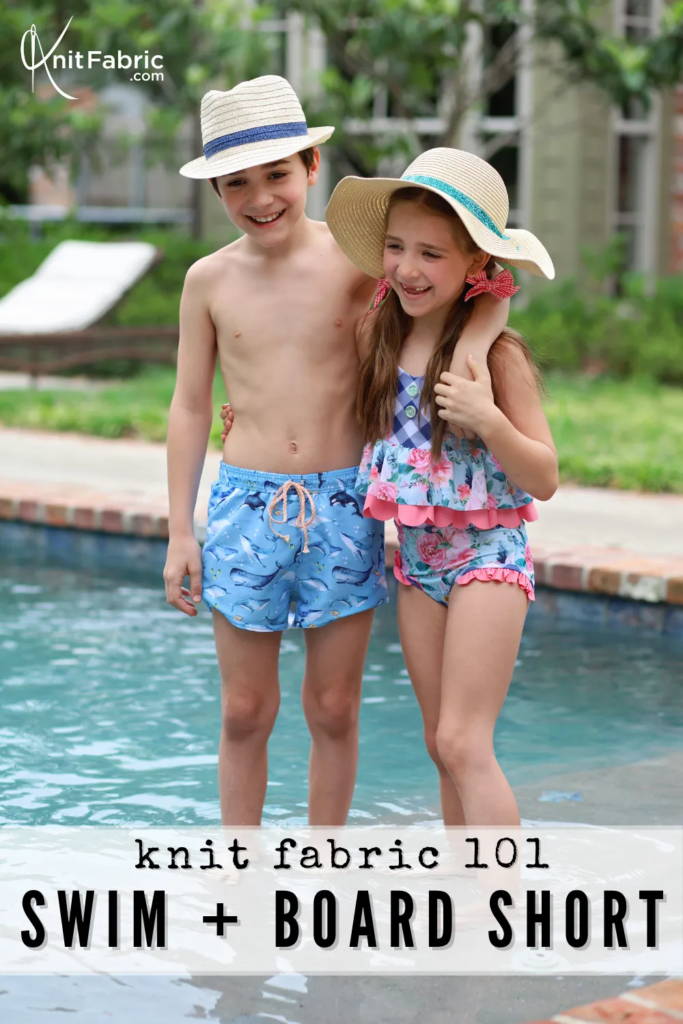 Sew Clothing With Athletic Fabric

Athletic Fabric is a knit apparel fabric that is specifically designed to keep away moisture which will keep you nice and comfortable while exercising. It's a stretchy fabric that works well for fitted garments that can move with your body. Many of our fabrics for althletes are also UV rated for extra sun protection.
You'll have to sort through all of our different Athletic Fabric to get a feel for what we have but you'll generally find a wide variety of different stretches, different fabric contents, and different textures. We came out with the Momentum Shorts over at Peek-a-Boo Pattern Shop awhile back and Heather wrote up a great review on the pattern and gave her tips and tricks to sewing with athletic fabric HERE.
Sewing With Cuff Rib Knit

We already covered what rib knit is above and gave you some different applications. We also carry Cuff Rib Knit. This is rib knit that is already folded over and sealed at the bottom - it stays together. It's super easy to use to make bands and cuffs for all of your apparel sewing.
Cuff rib knit is a time saver and comes in a lot of different colors. We also have another excellent tutorial from Heather on How to Use Cuff Rib Knit.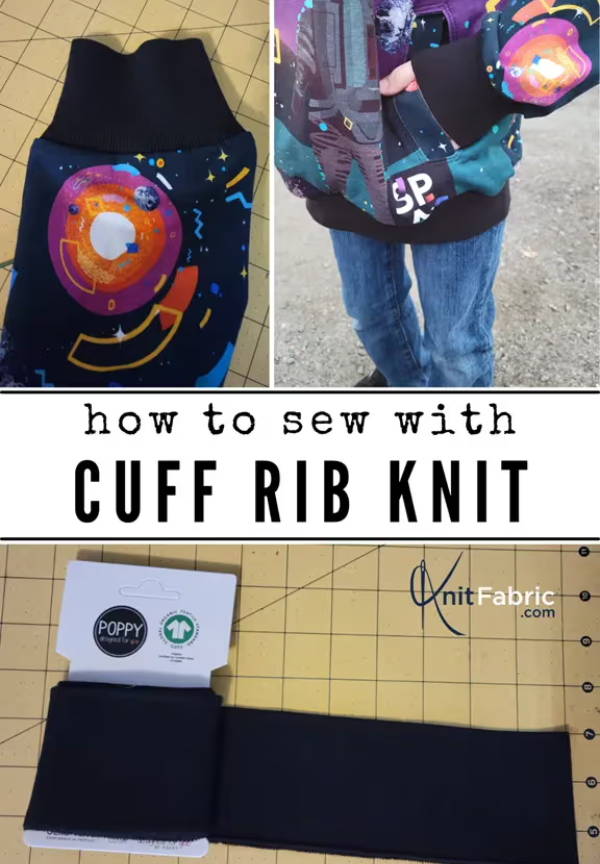 OK.....we've given you a pretty good rundown now of the different types of knit fabric that you can using when sewing apparel. However, apparel fabric doesn't end with knit fabric. Not even close. Woven fabrics are used in sewing all the time and include popular options like denim, linen, canvas, corduroy, flannel, terry cloth, velvet, and twill.
They're also extensively used outside of clothing and apparel for things like quilting, home decor, upholstery, etc.
Woven fabric is formed through weaving and unlike the knit fabrics featured above it is not stretchy or appropriate for many t-shirts, dresses, pajamas, or other more form-fitting applications. We do sell quite a lot of woven fabric used for sewing clothes. One popular option is quilting cotton.
Quilting cotton fabric is a durable medium weight plain weave. While it is primarily used for quilts and home decor projects, it can also be utilized for clothing.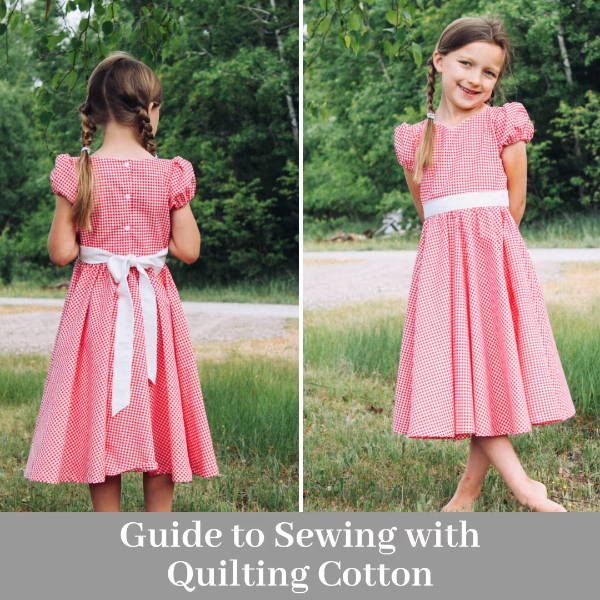 What is the difference between natural and synthetic fabrics for apparel?

Natural fabrics are derived from plants or animals, such as cotton, silk, and wool. They are breathable, comfortable, and biodegradable. Synthetic fabrics, on the other hand, are man-made materials like polyester and nylon. They are often more durable, resistant to wrinkles, and moisture-wicking.
Where Can I Buy Apparel Fabric Online?

Right Here! At KnitFabric.com we offer a great selection of apparel fabrics for every budget, style, and type of clothes. Check out all of our fabrics.
Well - we went over a wide variety of fabrics today but we couldn't cover every apparel fabric. That beings said, hopefully you have an idea of what might be right for your project. Make sure to check out all of our Apparel Fabrics at KnitFabric.com, including our fabric with discount prices. As always, come visit us over at the KnitFabric.com Facebook Group where you can ask questions and share what you're making. You can also follow us on Instagram.
Happy Sewing!