Posted by Kristen Ruby on Jan 25th 2023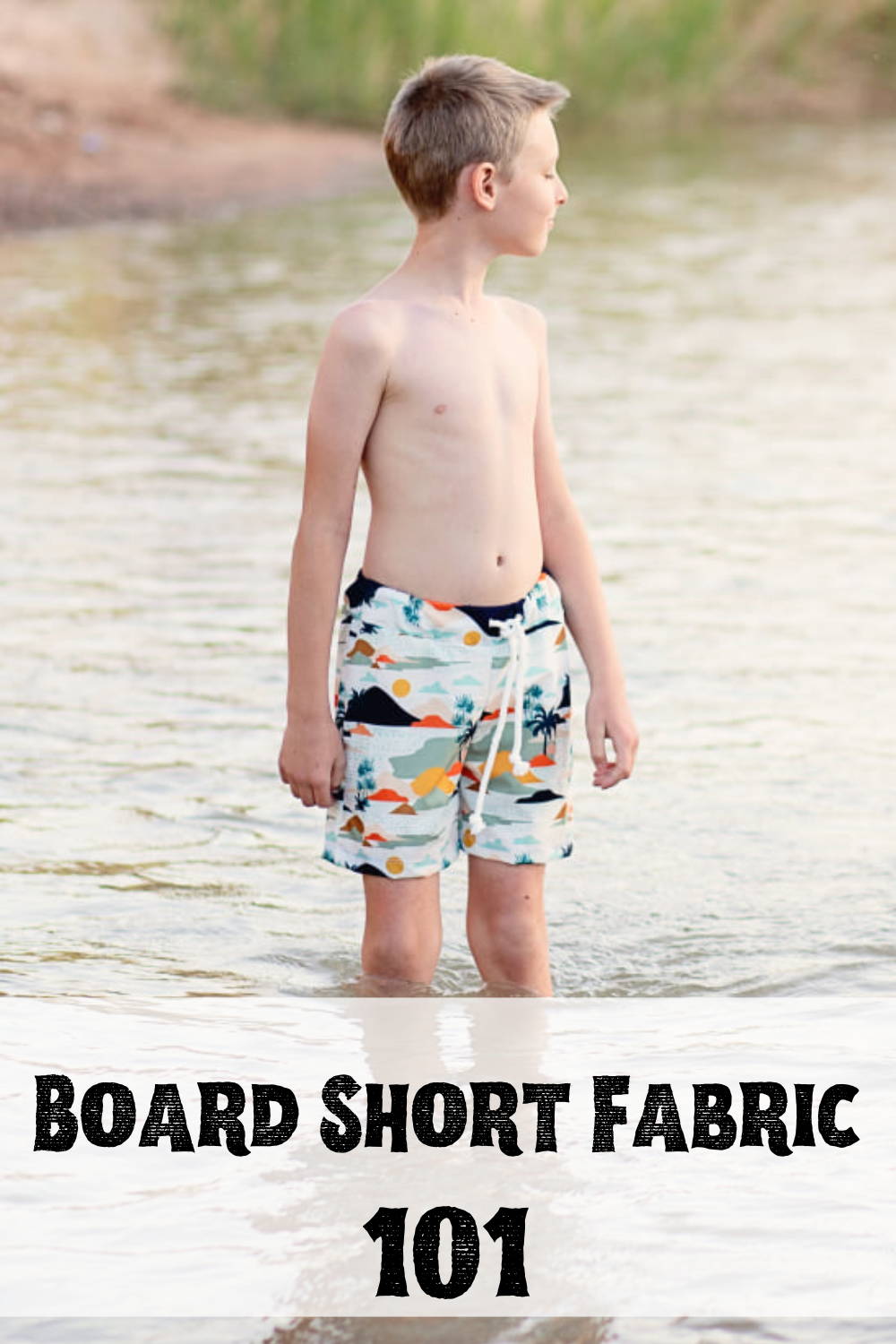 Welcome to our board short fabric guide. Board short fabric is the perfect option for boys and mens swimwear. It's a quick drying polyester based fabric that can withstand exposure to sun and chlorine. Today we'll cover what board short fabric is, recommend some sewing patterns, go over care instructions, and even go over a guide on sewing with it.
Of course, don't forget that we have a wide range of Solid and Print Board Short Fabric at KnitFabric.com. Let's get started!
What is Board Short Fabric?

Like most generic fabric terms, different fabric types sometimes have different descriptions or fiber content. For the sake of this article, we are going to describe board short fabric as a microfiber polyester woven fabric with no stretch. It can vary in weight, but is usually around six ounces per yard and is 58" wide.
The grain of the fabric runs parallel to the selvedge. Like other woven fabrics, there is a very slight stretch if you stretch the fabric diagonally (which means that you can make bias tape from this fabric). Board Short fabric has two distinct sides. The right side is slightly brushed (think like the skin of a peach or apricot) and the wrong side has a smoother, almost silky feel to it. It dries very quickly, which makes it ideal for swimwear!
We carry a wide range of board short solids and prints. You can find them HERE.
What to Make With Board Short Fabric?
One question that I see pop up a lot in various sewing groups is: What else can I make other than swim shorts? My answer: Anything! Board short fabric could technically be used anywhere that you would use another woven, non-stretch fabric.
Loose cover-ups, light rain jackets, capris, skirts, the skirted portion of a swimsuit, beach bags, swim scrunchies, and sun hats would make ideal projects.
And yes, you can always make swim shorts. I like to make my daughter and I a few pairs each season so that we have more modest coverage at splash parks, amusement parks, or on the boat. We can go from splash park to rollercoaster without having to change. Since board short dries very quickly, it is a great option to wear out and about in warmer/wet weather.
Board Short Pattern Suggestions
Of course I can't tell you about board short fabric without telling you about some great pattern ideas from Peek-A-Boo. If you're here to sew some traditional board shorts, the Santa Cruz Board Shorts Pattern, Baja Shorts Pattern, or Long Beach Men's Board Shorts Pattern are great options.
Board Short Fabric Content
Board short fabric can contain a variety of different fiber content. Usually, it is a lightly brushed polyester microfiber fabric. Sometimes, It may be marketed as stretch board short, which would make some kind of a polyester/elastane blend, which would give the fabric either two-way or four-way stretch.
The majority of the board short fabric that I looked at carried on knitfabric.com was 100% polyester, 6oz/ yard, and 58/59" wide. It has a slightly brushed feel to it, and it has UV 50+ protection, which makes it a great fabric option for fun in the sun. There are tons of patterns and solids to choose from on the website, but I particularly like that there are many bright options that would increase visibility for added swim safety.
Knitfabric.com also carries a Stretch Woven Activewear Fabric, which has all the same properties as the aforementioned stretch board short fabric. This fabric is a 96% polyester/ 4% lyrca blend which gives the fabric a 20% horizontal stretch and nice drape. It can be used for board shorts, running shorts, and button-up shirts.
Most board short fabric is water resistant, not waterproof. This means that if it gets wet, some of the water may bead off, but if it is soaked, it will be wet. If it does get soaked, it will dry very quickly. The water resistant property of board short make it a good choice for light weight spring jackets, and there are other after-market additives (i.e. water repellant and seam tape) that can be added to make the item waterproof.
Caring for Board Short Fabric
Washing–Another question that I see often is: Should I wash my fabric before sewing? I always say yes. Washing your fabric how you would the finished garment makes sure to account for any shrinking, color bleed, or dirt accrued along the way.
Pressing–Can I iron board short fabric? YES! Just be sure to test a scrap piece and abide by your iron's setting for synthetic materials. If you put a very hot iron on board short fabric, there is a good chance that you will melt it.
Tips for Sewing with Board Short Fabric
For most board short applications, I use a lightweight universal (i.e. a needle made for wovens) or microtex needle. I use a combination of my sewing machine, serger, and coverstitch to obtain the most professional finish that I can achieve.

Use sewing clips over pins if possible to avoid unwanted holes in the fabric.

Board Short fabric will fray so it is important to finish all seams. My preferred method is using my serger, but occasionally I will use my cover stitch. Be sure to switch out the needles in all of your machines. I have forgotten a time or two and it always results in skipped stitches or nesting on the backside of the fabric.

If using a solid board short fabric that has a similar look and feel on both sides, I usually use a disappearing sewing pen or little sticky note to keep track of the right and wrong side of the fabric so I don't get confused if the fabric that I am working with is less brushed.

If sewing an item that will be submerged in water, make sure the water has a way to get out. Like if you add a pocket to board shorts, consider adding a grommet for the water to escape.
Other Things to Consider:
Lining Fabrics: Many times, bottom patterns using board short material call for a lining of some type, which allows for a little more support or security. Sport mesh, swimsuit lining, tricot, or power net mesh are all good options depending on what the recipient likes.
Elastic: When sewing swimwear that you want to last and pass on through the years to siblings or cousins, I recommend using swimsuit elastic instead of regular elastic. Knitfabric.com has a variety of swimwear elastic, but I especially like that they carry a 1.5 inch and 1.25 inch option, which are perfect for a waistband elastic used in board shorts!
Sewing a Project with Board Short Fabric
Today I decided to sew the Santa Cruz Board Short Pattern from Peek-A-Boo in board short fabric. I have chosen the shorter length, with grommets, drawstring, and no liner in size 5.
Tools: Sewing Machine, Serger, Cutting Tools, Mat, Clips, Snap Press, Thread, Safety Pin or Turning Tool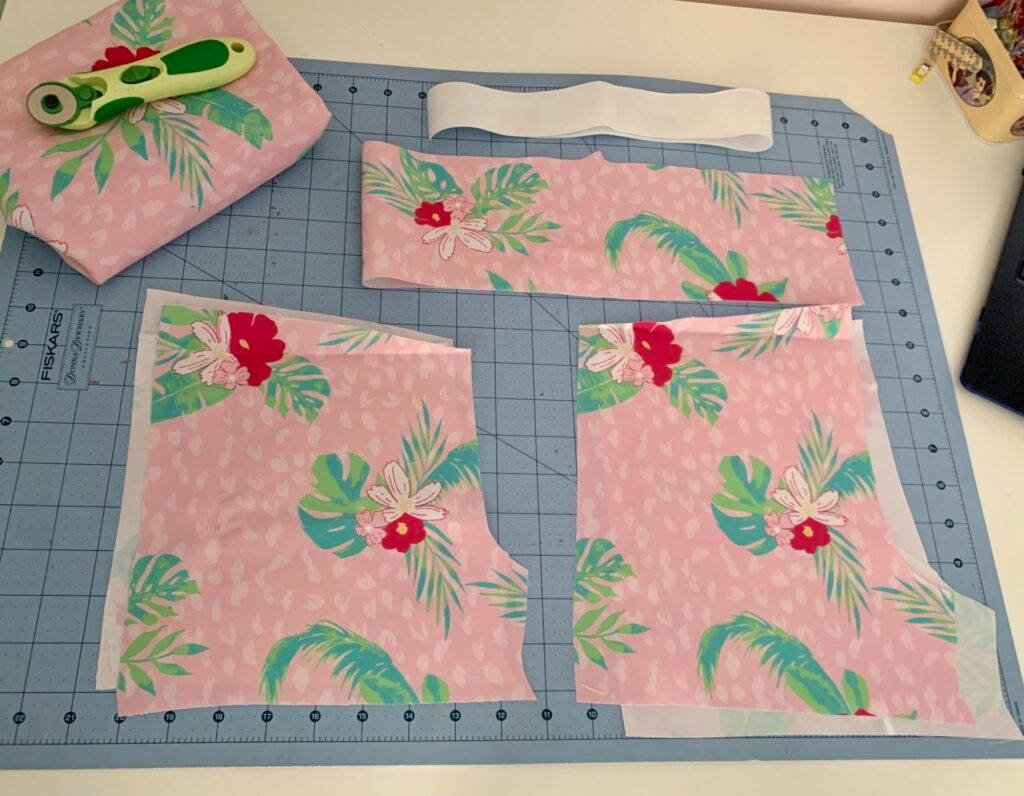 Step 1: Choose your view and cut your pattern pieces. For the simple short version, you need two opposite fronts, two opposite backs, one waistband, and one piece of elastic.

Step 2: Match one front to one back, right sides together along a side seam. Sew using a straight stitch and ½" seam allowance. Trim the seam allowance to ¼". Serge or zigzag the seam to prevent fraying. If desired, press the seam allowance towards the front and topstitch using a straight stitch or cover stitch. All seams are finished in this way throughout the tutorial. Repeat with the other leg.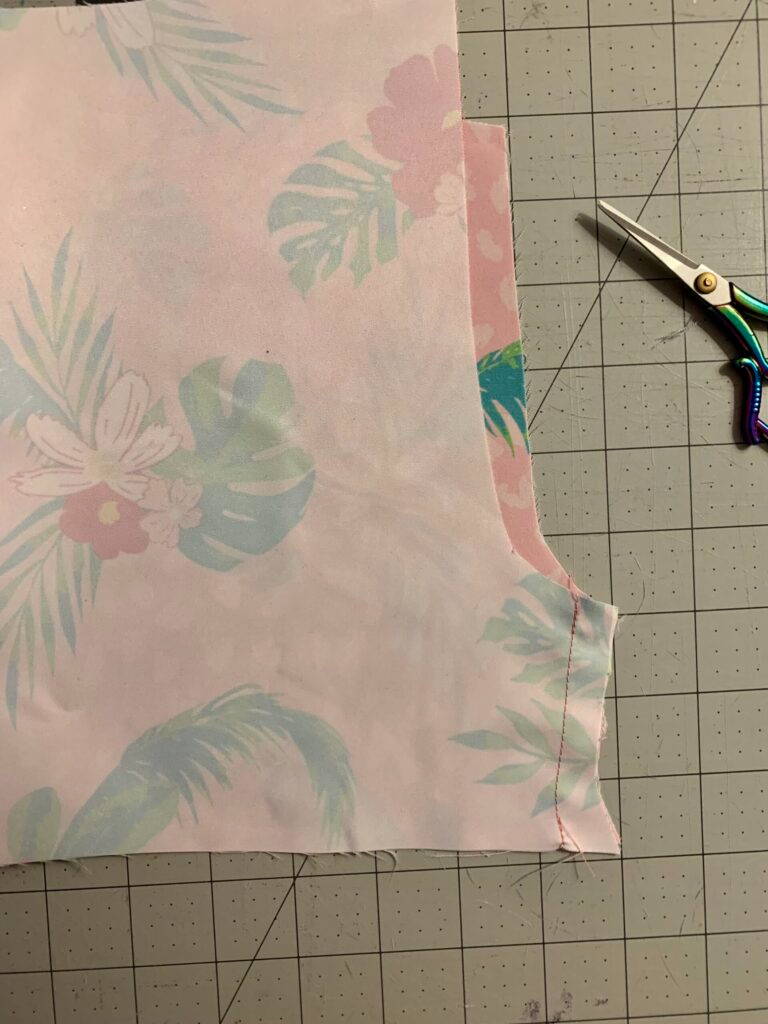 Step 3: Match the inseams with right sides together and sew using a straight stitch. Finish the seam.

Step 4: Press the bottom edge up ¼". Then, fold up another ½" and press. Topstitch the hem.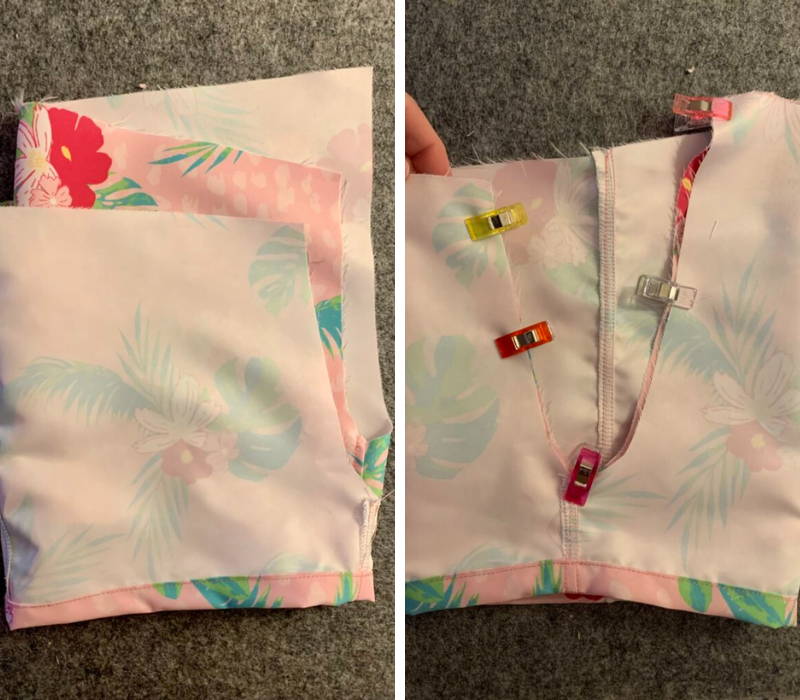 Step 5: Turn one leg right side out. Place it inside the other leg, right sides together, matching the inseams. Using a straight stitch, stitch the curve. Finish the seam. Turn the shorts right side out.

Step 6: Add a piece of fusible interfacing under the eyelet markings. Add eyelets/grommets/button holes according to your chosen method. I have chosen to add metal 7.1mm grommets using a snap press.

Step 7: With right sides together, sew the short sides of the waistband together. Fold the waistband together so that the seams are enclosed and wrong sides are together.
Step 8: Place the waistband over the shorts. Make sure your grommets are touching the right side of the shorts and that the center back seams are aligned. Using a straight stitch, attach the waistband to the shorts leaving a 2" gap to thread your elastic through.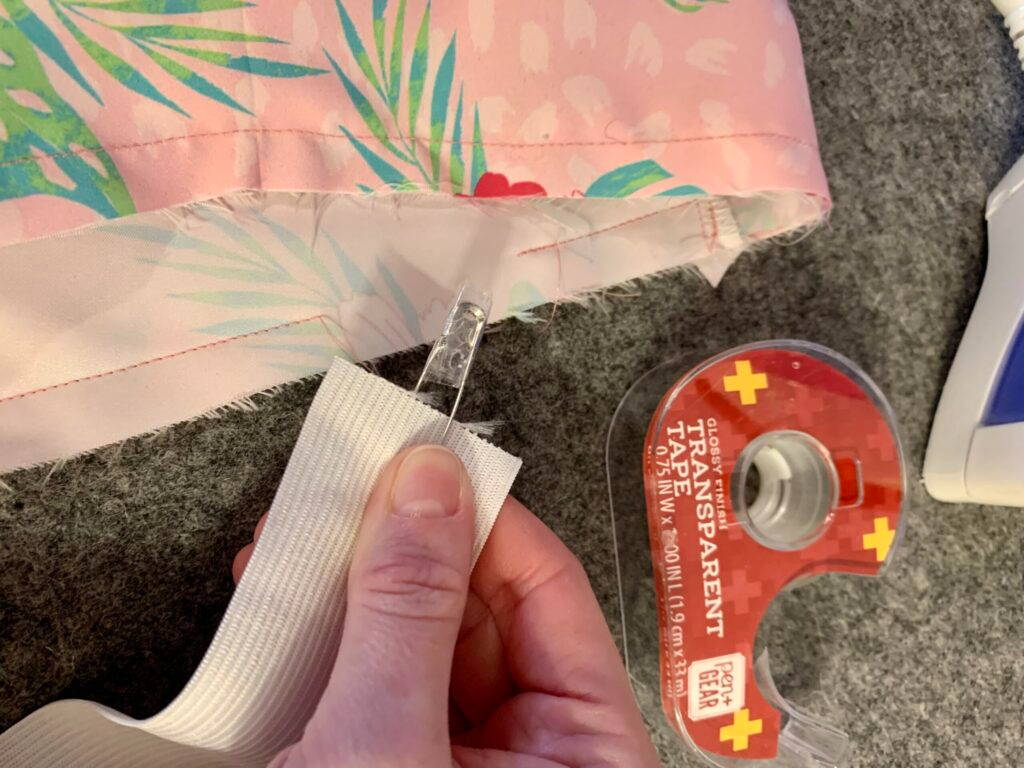 Step 9: Thread the elastic through using a safety pin or elastic threader. If using a safety pin, it is helpful to wrap a piece of tape around the top so that it does not come undone while threading it through. Overlap the ends of the elastic by 1/2 " and sew using a zigzag stitch. Sew the hole that used to thread the elastic through. Finish the waist band seam with a serger or zigzag stitch.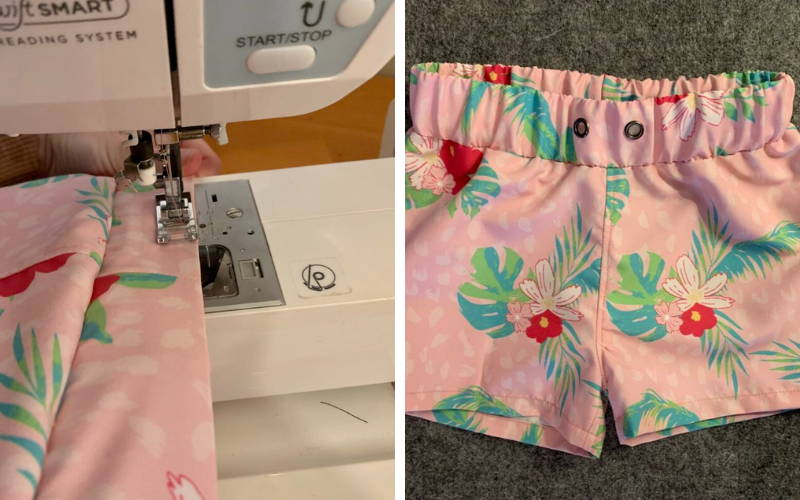 Step 10: Turn the waistband up. Stretch the elastic so that it lays flat with the casing while you topstitch with a long straight stitch. Watch out for the grommets!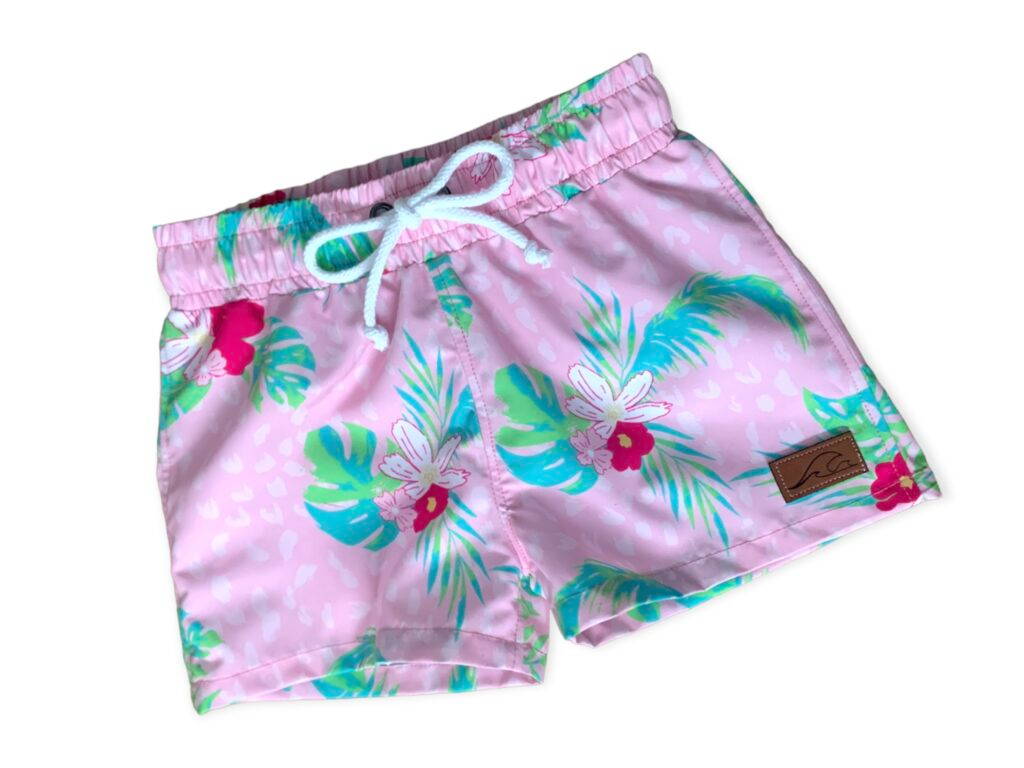 Step 11: Thread the drawstring through the opening. Once it is evenly distributed, I like to sew a straight stitch in the back to secure that it will not be pulled out. Knot or use aglets on the ends of the drawstring.
And there you have it....sewing board short fabric wasn't too hard after all. Be sure to check out our Board Short Fabric Section, get your fabric, and start on your projects.