Cotton Lycra Fabric 101 | Fabric Guide to Buying and Sewing Cotton Lycra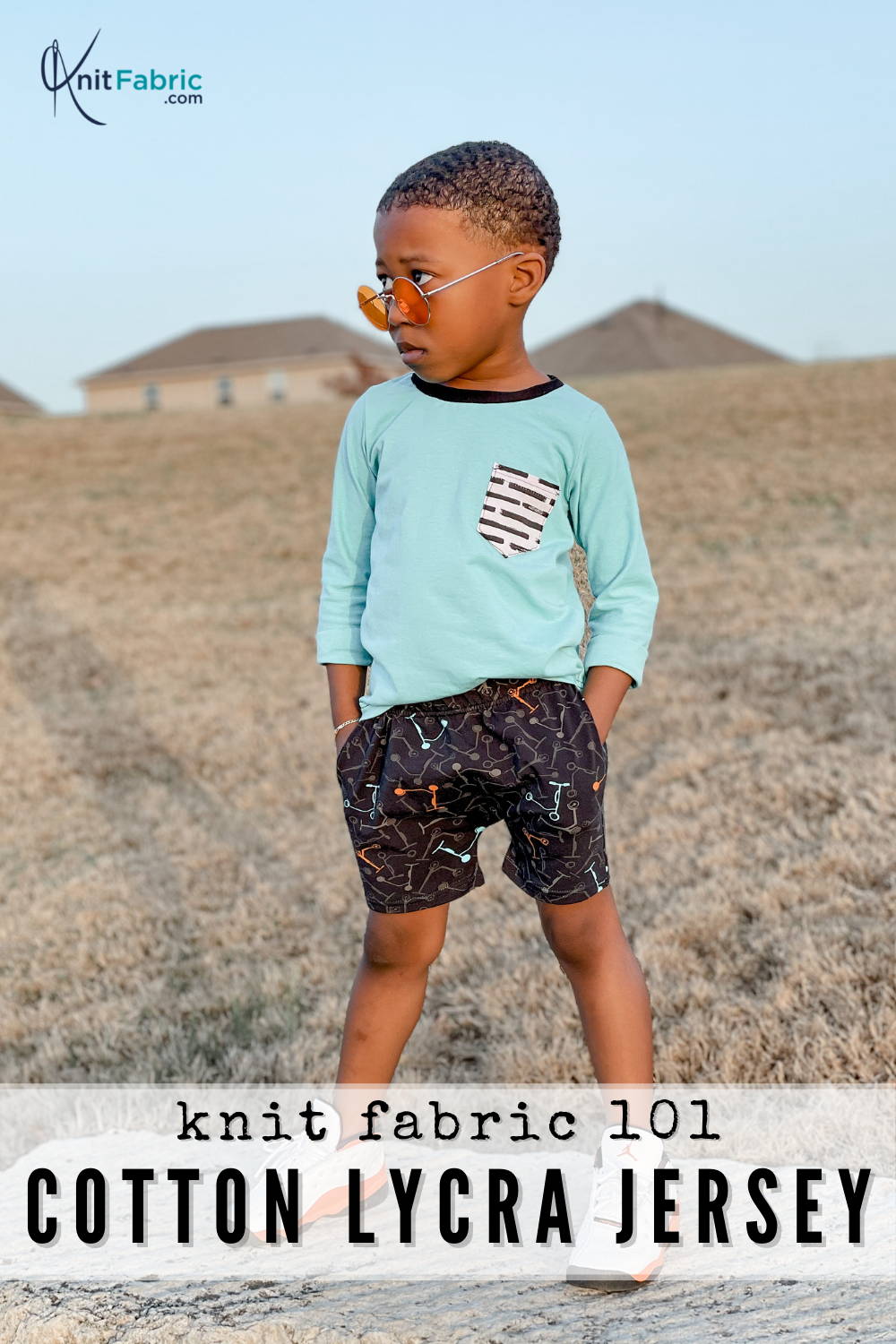 What is Cotton Lycra Fabric?

Cotton Lycra fabric is one of my favorite fabrics to sew! It has a number of benefits to regular 100% cotton - we'll get into those benefits below. It's also the most popular knit we sell at KnitFabric.com - It is breathable, versatile and a great basic knit for those just venturing into sewing with "stretchy" fabric!
Let's take a closer look at what makes it great for beginners, some helpful tips for sewing, and shopping for Cotton Lycra fabric.
We have hundreds of cotton lycra fabrics in stock - both prints and solid.
First things first - what is lycra or spandex?

Lycra is the brand name of a synthetic fiber that is very stretchy and helps knit fabric to retain its shape. You will also see this listed as spandex or elastane (those are the general names of the fibers). They are all the same thing! When a knit is listed as "100% cotton" it has zero percent lycra in it.
For that reason, you might hear people refer to cotton lycra fabric as cotton spandex knit, spandex jersey knit, jersey knit fabric, or even cotton spandex.
Cotton spandex or cotton lycra will stretch, however, it will recover to its original shape. Cotton does not have the same recovery. If you use "100% cotton" jersey, I would not suggest using it on garments such as leggings, underwear, leotards, or other items that need to stay close fitting to the body. This cotton does not have enough elasticity without the spandex.
How do I know how much lycra is in the fabric?

The fiber content will be listed as a fraction with the amount of cotton / the amount of lycra. It will look something like this: 97/3, 95/5, 93/7, etc. The first number is the amount of cotton. The second number is the amount of lycra or spandex. The higher the second number (or amount of lycra), the better it will be at recovering to its original shape after being stretched.
A 95/5 cotton lycra is what many cotton lycras will be (custom prints from www.knitfabric.com and other brands such as Art Gallery Fabrics and Riley Blake will typically have 95/5 cotton lycra). This cotton blend is great for leggings, leotards, tees, underwear, lightweight pullovers, nightgowns, pajamas, beanie hats, shorts, etc.
How much lycra should be in the fabric for the item I'm making?

The amount of lycra needed in proportion to cotton really depends on the pattern being sewn. Some patterns will have suggested fiber content listed in the "fabric requirements". However, if it is not stated specifically, take a minute to consider what you're sewing.
If it is a garment that needs to fit tight to the body, then 5% or 7% lycra or spandex will be a better choice than 3% or 0%. For example, if you're making a loose fitting nightgown, the fabric will not need to cling to the body, so a lower percent of lycra and higher percent of cotton is acceptable. Keep in mind that neck bands and cuffs really need to have at least 5% lycra in order to retain the shape of those pieces. Don't use 100% cotton in this instance.
Is All Cotton Lycra Fabric the Same?
Nope! Cotton lycra can vary greatly in weight and amounts of lycra. The weight will be shown in "gsm" (grams per square meter) or in "oz" (ounces per square yard). Higher gsm and oz. will be thicker and heavier weight. A nice mid-weight cotton lycra will be about 210-220 gsm and about 8.5oz.
This weight will generally not be see-through and is great for anything from leggings to dresses. A higher gsm will be more durable, but not necessarily as drapey as one with a lower gsm. A lower gsm will be more sheer, but will also tend to have nice drape.
This Essential Tee dress was made using a lighter weight cotton lycra fabric. You can see that it has a nice flowy drape and pairs nicely with the Solid Essentials for the neckband.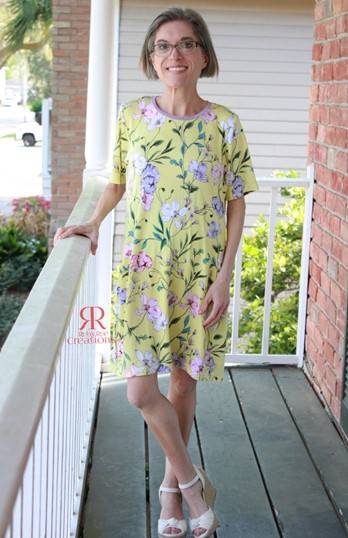 Is it Good in All Climates and For All Seasons?
Because cotton lycra is a cotton based knit, it is very breathable and suitable for warmer climates. Also, with the varying weights and thicknesses of this type of knit, it is great for all times of the year. It can be paired with some other types of jersey, like french terry, for pullovers. Also, you can mix it with heavier knit to make quick and easy baby blankets.
Check fiber content of the knit and match it to the fabric requirements for the pattern you're sewing. 95/5 will have great elasticity and recovery (goes back to its original shape after being stretched).

Check knit stretch. Cotton lycra will either have 2-way stretch or 4-way. Remember that you'll want the greatest amount to go AROUND the body. If your knit only has 2-way, be sure you cut the pattern pieces out with the greatest amount going across the grain.

Be touchy feely! If you are new to sewing with cotton spandex, I recommend trying out different weights and lycra contents. Stretch a small sample and see if it recovers back to its original shape.

Hold it up and see if you can see through it.

Hold the knit up and see the drape and flow! Once you get used to sewing with cotton lycra fabric, you'll be able to read fabric content and weight and know if it is appropriate for your project.
Wash and dry the knit before sewing it. Cotton Spandex fabrics tends to shrink, so I recommend washing and drying it on the settings you use when washing your laundry (i.e. I wash clothing on cold and dry on low, so those are the settings I would use to wash and dry).

Pre-washing also helps to remove an excess dye used. I suggest tossing in a color catcher or two on the first wash. Also, if you're washing with bold colors, I would suggest washing those on their own and not combining them with lighter colored fabrics for the first wash.

Use a ballpoint or universal needle with the proper gauge. I mainly use universal needles when sewing, but I pay particular attention to the gauge. When I'm sewing heavier knits and fleece, I will use a higher gauge needle (90/14).

When I'm sewing thinner knit, I will use 70/10 gauge. Most often I keep a 80/12 needle in and it does well with mid-weight cotton lycra fabrics.
I love mixing cotton lycra fabric solids with prints. The Solid Essentials at Knit Fabric are my go-to. A wide variety of colors are available and the stretch and recovery are consistent across the rainbow of colors. They are perfect for cotton neck bands, leg bands, cuffs, bindings, hood lining, etc.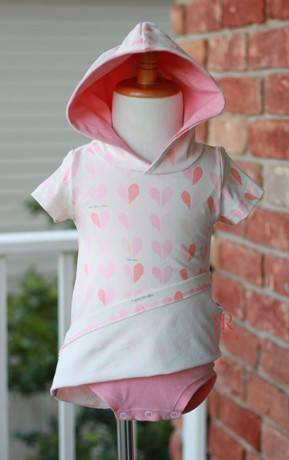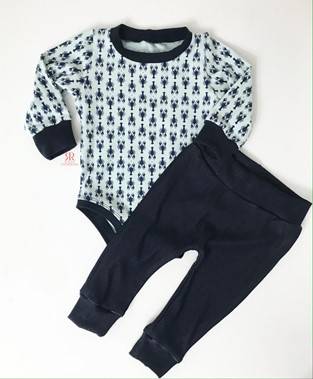 Using Jersey Knit Fabric as a Lining
In this Great Outdoors Vest, I paired a cotton lycra fabric solid with a woven corduroy. Mixing stretchy cotton lycra with a non-stretch fabric is not unheard of.
When pairing stretchy and nonstretch fabrics, I recommend using a walking foot on your machine, using lots of pins, and going slow! I do sometimes end up with little small tucks or folds when pairing these fabrics, but they are small and not noticeable.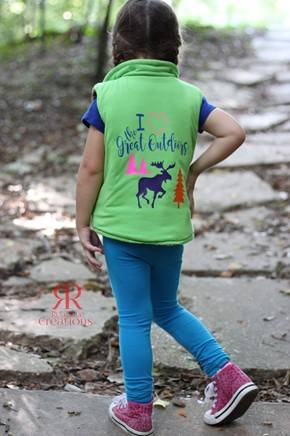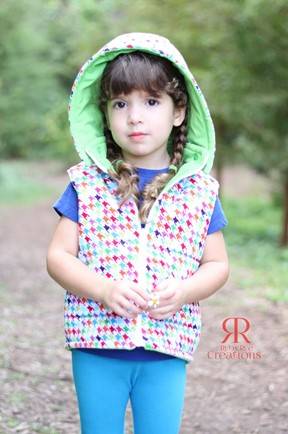 You'll notice the design on the back of this Great Outdoors Vest - Cotton Lycra is also great for all of your favorite digital cut files!
So, there you have it! Cotton lycra fabric in a nutshell! If you're new to sewing with stretchy fabrics, cotton lycra is great!
KnitFabric.com carries hundreds of cotton lycra fabrics. Visit our collection HERE.
Here are a few other things that our customers have made with knit cotton lycra fabric: